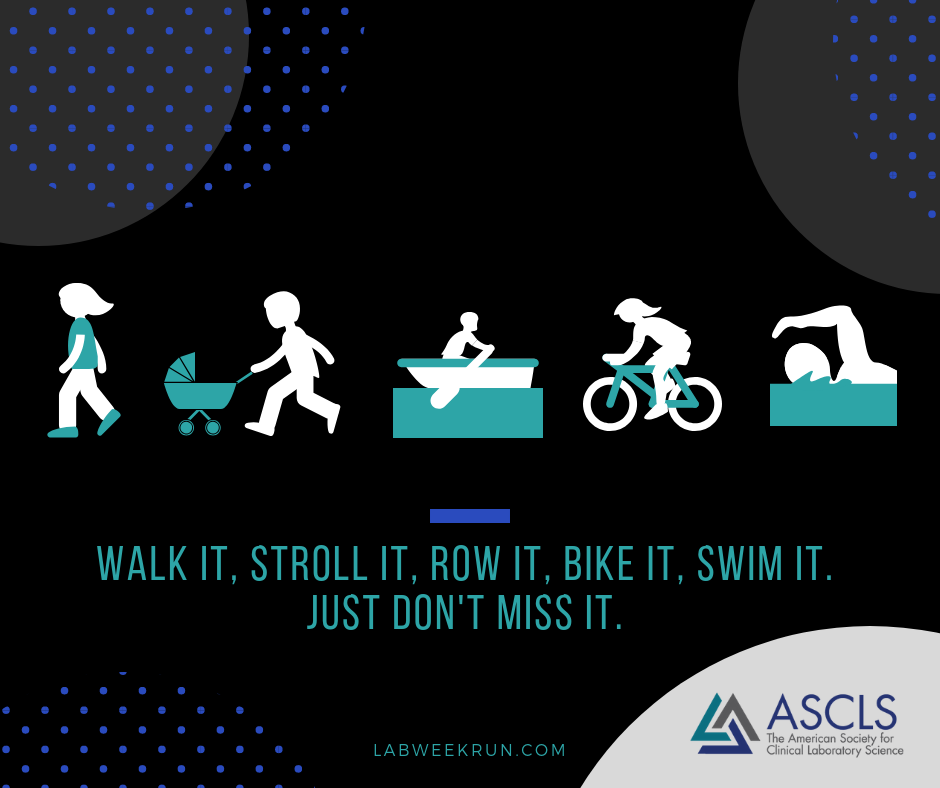 How does a virtual run work?
A virtual race unlike a traditional race can be run at any time during Medical Laboratory Professionals Week (April 23-29, 2023) and can be run anywhere. Participants can walk, use a treadmill, run outside, or even run in another race concurrently. Participants can perform this race at any speed they like.
Lab Week Run has had participants run, walk, push baby strollers, walk their dog, hike, and even kayak to complete the 5K distance (or 3.1 miles). Virtual races can be completed all together or over time, whenever and however is most convenient for the participant.
Why should I sign up for this virtual run, how is it different from the others?
Many virtual runs only pledge 5 percent or other small percentages of their profits to stated causes. Our Lab Week Run is entirely not-for-profit. Everything we raise goes to our cause of helping medical laboratory science students and new medical laboratory professionals attend meetings, lobby senators and Congress on behalf of the profession, and become future leaders in this field.
Who makes the finisher medals?
When Lab Week Run was looking for a company to create our finisher medals, we reached out to several and we heard back from one very excited individual, John Breen from Ashworth Awards in Boston, Massachusetts, a company that makes medals for the Iron Man and the Boston Marathon. This individual's mother was a hematologist, so he knows exactly what our profession is. He was inspired to make a unique finisher medal in celebration of our profession and has continued to help us make unique, fun finisher medals every year since.
John Breen's mother passed away in 2018, and the ASCLS Education and Research Fund has established a scholarship in Cynthia Breen's honor with a contribution from the Ascending Professionals Forum from Lab Week Run.
I've signed up for the run, now what happens?
Your race packet will be mailed to the address you've provided through PayPal. The packet will include a finisher medal and race bib. You will have the entire week of Medical Laboratory Professionals Week to complete your 5K distance. We encourage you to wear your race bib and have fun! As much as Lab Week Run is a fundraiser, it is also a way to promote visibility of our profession in your community. We are a vital member of the healthcare team and we want to celebrate during our nationally recognized week.
Should I dress up?
This is entirely up to you. We have people dress up every year and hope to see more, as this event is about promoting our profession during the week celebrating us.
How do I keep track of my time/pace?
Lab Week Run is a virtual race, so it is completely on the honor system. You are not required to prove your participation.
We encourage you to upload pictures after finishing: https://www.labweekrun.com/index.php/submit/
To keep track of your time there are many free applications available here: https://www.labweekrun.com/index.php/free-runner-apps/
I've completed my virtual run, now what?
Savor the glory! Submit your race photo(s) to https://www.labweekrun.com/index.php/submit/ and be sure to post to Facebook/social media as well using #LabWeekRun #IamASCLS #Lab4Life